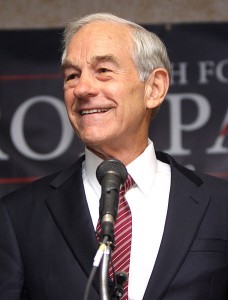 During his 30-year career, which includes three bids for the White House, several bestselling books and tremendous speeches at college campuses, on the debate stage and on the House Floor, Dr. Ron Paul has been eloquent in espousing the virtues of freedom, Austrian Economics, liberty and the aspects that made the United States great.
Yesterday, the retiring Texas Republican Congressman spoke at the Utah Valley University where he generated a standing ovation and enthusiastic cheers.  In his speech, he attacked the status quo of the Federal Reserve, taxation, wars, social safety nets and much more.
I read the news report from Deseret News, but there was one particular quote that really stood out for me and I wish more and more would say this out loud with genuine passion.
"Peace is better than war. Free markets are better than socialism. Balanced budgets are better than spending," Paul said. "Why do we lose this argument? It seems like it's so attractive."
This is not only true, but also a marvelous statement.  It would be great if former Governor Mitt Romney or President Barack Obama (or in my case, Prime Minister Stephen Harper) would say something as eloquent.
Like this article? Get ECN delivered to your inbox daily. Subscribe here.