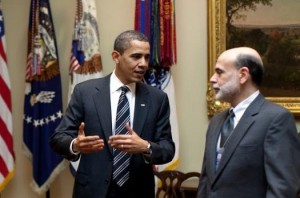 Yesterday, I (happily?) reported on the recent news that Mr. Helicopter himself Federal Reserve Chairman Ben Bernanke has told friends that he is considering not seeking a third term and step down in Jan. 2014.  However, it could be much sooner if former Massachusetts Governor and Republican nominee Mitt Romney gets elected on Nov. 6.
Although it is great that he is resigning, it won't change the system and we will still have QEs, inflation, Operation Twists and further government intervention in the economy and market.  Nevertheless, we should still celebrate that he may leave, even if he is replaced with someone just as bad or even worse than him.  Essentially, it's a short parade.
Let's look at his legacy, shall we?
– $7.7 trillion in bailouts throughout the United States financial system
– $3 trillion to foreign banks throughout Europe and Asia
– A total of $16 trillion of money handed out, according to a minor audit from the GAO
– Quantitative Easing Nos. 1, 2 and 3, Operation Twist, interest rate at Japanese levels, bubbles and a whole lot more.
Who do you see replacing him?  I found out that if Romney is elected, Glenn Hubbard is high on the list.  If President Obama is re-elected then Timothy Geithner, Janet Yellen and Alan Krueger are top contenders.
Let's also look at Congressman Ron Paul demolish Bernanke.
Like this article? Get ECN delivered to your inbox daily. Subscribe here.