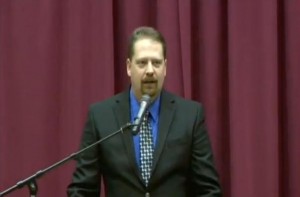 This week-long Economic Collapse News series will feature three candidates vying for a seat in the House of Representatives and Senate.  Each candidate will provide his take on the Federal Reserve, their pick to replace Chairman Ben Bernanke and their view on monetary policy.  Part one of our series looks at Montana Libertarian Senate candidate Daniel Cox.
If one heads on over to Daniel Cox's campaign website, the first item the visitor will notice is "the two-party debt machine" and how much each president has raised both the national debt and the debt ceiling – Republican President Ronald Reagan increased the debt 189 percent and raised the debt limit a record 17 times.
This is something Cox is looking to end, if elected as a Libertarian to the Senate.  Why is he running?  One of the reasons is that the practice of Keynesian economics, which has infiltrated Washington politics over the past few decades, has devastating consequences and can wreak havoc of a nation's government and economy.  Cox prefers to end the economic theory before it goes too far.
When asked if he believes Federal Reserve Chairman Ben Bernanke possibly stepping down in Jan. 2014 is a step in the right direction toward drifting away from the policies that have been perverse, especially since the recession started in 2008, Cox responded that it doesn't really matter who is the head of the Fed because it's the system itself that he is opposed to.
"My problem isn't with who will run the Federal Reserve banking system.  My problem is with the system itself," stated Cox in an interview with ECN.  "Keynesian economics will always collapse a country.  That is why our Constitution says that congress shall coin money and it needs to be based on gold or silver."
ECN noted in a blog post last week that there has been talk of possible replacements.  If President Barack Obama is re-elected, some of the rumored substitutes include Treasury Secretary Timothy Geithner, who has said he is leaving by the end of the year; Janet Yellen, vice chairwoman at the Fed; and Alan Krueger, a former assistant secretary of the Treasury for economic policy.
If Republican nominee Mitt Romney is voted into the White House on Nov. 6, one potential suitor is Glenn Hubbard, former head of President George W. Bush's Council of Economic Advisers.
As many libertarians and those who oppose the Fed have stated in the past, it's the system that needs to change not the person in charge of the central bank.  This sentiment can also be attributed to Cox, who likened being the leader of the Fed as leader of the mafia.
"It won't matter who the chairman is.  Theft is theft," said Cox, who has been endorsed by Libertarian Party nominee and former New Mexico Governor Gary Johnson.  "That is like asking who would I like to be in charge of the Mafia so long as it exists."
Texas Republican Congressman Ron Paul's overwhelmingly approved Audit the Fed bill (H.R. 459) would perform a full audit, allow the government to review the policy deliberations and make the institution more transparent.
For more than 30 years, the retiring libertarian-leaning representative and three-time presidential candidate has called for the gradual end of the Fed.  Cox also wants to see the demise of the Fed, the United States Treasury take charge of currency and currency competition.  Like a lot of conversant individuals in the field of monetary policy, Cox is concerned about inflation and the value of the U.S. dollar.
"The Federal Reserve should be ended, however it is really unnecessary.  If the U.S. Treasury printed currency backed by gold and silver that would create currency competition," explained Cox.  "The Federal Reserve Note is inflated to almost no value already and it isn't backed by anything.  These fiat Federal Reserve notes would then become extinct almost overnight with a little competition from the U.S. Treasury."
What do Cox's opponents, Democratic Senator Jon Tester and Republican Senate candidate Dennis Rehberg, think about the Fed?  Senator Tester has yet to co-sponsor S. 202, but Rehberg as a congressman co-sponsored H.R. 459 and GAO-12-18: Federal Reserve Bank Governance, legislation would increase transparency.
Other important issues for Cox to tackle if elected include fighting for property rights; support the end of the Transportation Security Administration (TSA) and getting the tax situation in Washington under control that has been abused by both the Republicans and Democrats for far too long.
Be sure to view part two of our week-long series Wednesday when ECN interviews Texas Libertarian Senate candidate John Jay Myers.
Like this article? Get ECN delivered to your inbox daily. Subscribe here.