The United States economy is worth approximately $15.8 trillion, according to the latest estimates. Two-thirds of the U.S. economy is consumption-based, but a pertinent question should be asked: what does the average American buy and how much of it and what do U.S. companies sell to the rest of the world?
A new infographic titled "What America Buys & Sells" puts the economic superpower's buying habits into perspective. The detailed image, established by AccountingDegree.com, breaks down what American households purchased in Oct. 2012, based on Bureau of Labor Statistics and NPR.org data.
What did Americans buy? Consumers spent 0.14 percent on bacon, breakfast sausages and other related products. As a matter of fact, this is the same number Americans purchased on ice cream and related items. Meanwhile, potatoes were the most popular vegetable as Americans spent 0.08 percent and 0.076 percent was spent on tomatoes.
Let's face it. Some of us are easily tempted to indulge in snacks located inside of the vending machine. The data suggested that Americans spent 0.08 percent on purchasing food from vending machines and mobile vendors.
In relation to food, 8.5 percent was spent on groceries, including 1.2 percent for cereals and cereal products, 1.3 percent for fruits and vegetables, 1.9 percent on meat, fish and eggs and 0.9 percent on non-alcoholic beverages.
When it comes to alcoholic beverages, less than half were purchased and consumed at bars and other establishments.
Furthermore, Americans spent eight percent on tobacco and 5.7 percent on restaurants and delis.
Americans love their recreation, which is why it shouldn't be a surprise that Americans spent six percent on television and music, 1.7 percent on movies and concerts, 0.5 percent on sports and 0.2 percent on books, magazines and newspapers.
Education and medical care didn't account for much on the grander scale. Americans spent 1.7 percent on college tuition, while Americans spent three percent on doctors and dentists and 1.6 percent on drugs.
Housing seems to be the biggest expense for Americans as they spent 31 percent on rent and mortgages, 3.3 percent on furnishing the household and 3.9 percent on utilities.
Furthermore, a total of 12.1 percent was spent on vehicles, maintenance and gasoline, while 1.2 percent was spent on public transportation.
Compared to the year 1949, Americans are generally spending more than they did back then; except for food and apparel (1.5 percent was spent on women's/girl's clothes, 0.9 percent for men's/boy's clothes and 0.7 percent for shoes).
Here are key statistics:
–          Food: 40 percent (1949) vs. 15.1 percent (2012
–          Medical: 3.2 percent (1949) vs. 7.1 percent (2012)
–          Recreation: five percent (1949) vs. six percent (2012)
–          Transportation: 7.3 percent (1949) vs. 17.5 percent (2012)
–          Housing: 26.1 percent (1949) vs. 40.7 percent (2012)
–          Apparel: 11.7 percent (1949) vs. three percent (2012)
Other than buying, what is the U.S. actually selling? In total, the U.S. economy exports $1.498 trillion (not just in debt!) and $605 billion in services. Industrial supplies, capital goods and passenger fares were the three largest exporting goods, while other private services, royalties and licensing fees and travel were three largest exporting services.
Here are the key figures when it comes trading with other countries.
–          Canada: $281 billion; top export is vehicle parts
–          Mexico: $198 billion; top export is petroleum
–          China: $104 billion; top export is soybean
–          Japan: $66 billion; top export is civilian aircraft
–          United Kingdom: $56 billion; top export is gold
The infographic has been broken down into two images that can be found below.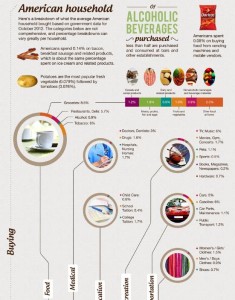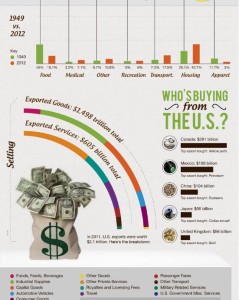 Like this article? Get ECN delivered to your inbox daily. Subscribe here.