News Story of the Day: it has been reported that close to $9 billion worth of stock was dumped this past week because of concerns over United States President Donald Trump. Due to the political turmoil unfolding in the White House, investors are getting scared.
Funds invested in U.S. equities experienced outflows of $8.9 billion in the week ending Wednesday. This is the third consecutive week of outflows. It looks like a lot of traders are heading over to European stocks with an addition of $1.1 billion, which is also the ninth straight week of inflows.
The biggest winners this past week were tech stocks.
Chart of the Day: Google has been a real game changer in the technology industry. The search engine juggernaut has transformed the Internet, improved the lives of many and keeps coming out with new devices. Here is a chart that shows what users are doing on Google: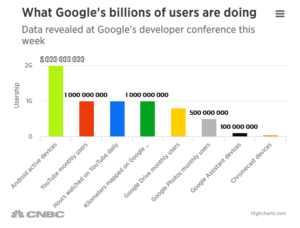 Illustration of the Day: we reported this week that the University of Missouri is losing students and revenues. It is easy to see why: administrators squash free speech, students are openly racist against white people and the school has no problem with shutting off political discourse. Remember Melissa Click? Well, she represents every regressive leftist out there:
Quote of the Day: speaking of free speech…George Orwell, author of "1984" and "Animal Farm," valued free speech and was quite eloquent on the subject. He, like so many of his generation, who weren't even conservative, defended free speech and warned against those who want to shut it down. Here is a splendid quote from the writer himself:
"If liberty means anything at all, it means the right to tell people what they do not want to hear."
Tweet of the Day: if you ever want to find a female politician who is as evil and vile as Hillary Clinton then look no further than Madeleine Albright. It was her birthday recently and she thanked everyone for the well wishes. It's likely she won't be thanking this particular Twitter user over this comment:
You know who won't be celebrating their birthdays? The 500,000 Iraqi children you said it was "worth it" to sanction to death. https://t.co/XtMcHhzniD

— Sarah Abdallah (@sahouraxo) May 18, 2017
Video of the Day: who really pays business taxes? Legendary free market economist Milton Friedman goes into this policy initiative, which is generally supported by Republicans and Democrats alike. Here is his explanation of business taxes:
Like this article? Get ECN delivered to your inbox daily. Subscribe here.