News Story of the Day: Twitter may publicly detest President Donald Trump, but they understand the true value he provides to the social media network. In fact, without the Twitterer-in-chief, the company would lose about one-fifth of its value.
According to Monness Crespi Hardt & Co. analyst James Cakmak, the website could shed approximately $2 billion of its value if @RealDonaldTrump called it a day.
"There is no better free advertising in the world than the president of the United States," said Cakmak.
Since opening up a Twitter account in 2009, Trump has tweeted more than 35,000 times.
Chart of the Day: the Internet landscape is completely different in China. In the United States, you have the likes of Amazon, Facebook and Google dominating the online world. In China, that's a different story; Baidu, WeChat and Tmall are the juggernauts. Here is a chart from Business Insider:
Illustration of the Day: right now, the trend among the left is to tear down monuments, statues and any other symbol that celebrates racists and slaveowners. Does this mean that Egypt should tear down the Pyramids of Giza? These structures were built with slaves. Where is the intellectual consistency?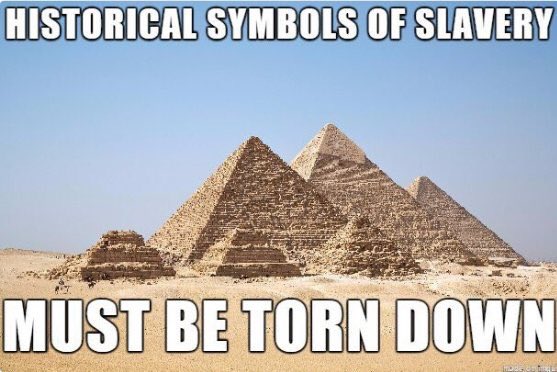 Quote of the Day: author George Orwell had a great understanding of life, and his words ring true today, and probably tomorrow. Here is a timely quote that fits with the trend of ripping down cultural reminders:
"The most effective way to destroy people is to deny and obliterate their own understanding of their history."
Tweet of the Day: what's the difference between terrorist organizations like ISIS and liberal publications? One group advocates for terrorist attacks, while the other group does the same thing. Here is what Vice tweeted out on Thursday, arguing to "blow up Mt. Rushmore":
They deleted it – here it is. pic.twitter.com/Cd65GassvD

— Paul Joseph Watson (@PrisonPlanet) 17 August 2017
Video of the Day: wow! Learn Liberty probably put out one its best videos ever. The video highlights why the rich like high taxes, the 1950s had four recessions and how the rich hardly paid the 91 percent tax rate like Cenk Uygur loves so much.
Like this article? Get ECN delivered to your inbox daily. Subscribe here.