President Donald Trump wants a mercantilist economy, a nation that is insulated from global trade, despite international commerce generating obscene amounts of wealth and opportunities for all.
Today, more than seven million Americans are employed by foreign companies, which represents about six percent of total private sector employment, according to the American Enterprise Institute (AEI), using data from the Bureau of Economic Analysis (BEA).
Here is a chart that looks at the total number Americans in each state working for foreign companies: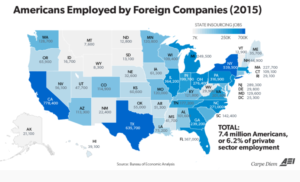 Like this article? Get ECN delivered to your inbox daily. Subscribe here.