News Story of the Day: the Norwegian government is considering adopting a new tax for consumers of electric cars that weigh more than two tons. Ostensibly, this would only impact Tesla for the time being, which means that those expensive electric vehicles could cost an extra $10,000 in the Scandinavian country.
According to The Financial Times, Norway may be installing a "tax bomb" and will it leave a burn on both the electric vehicle market and consumers.
Today, sales of electric and hybrid automobiles account for 60 percent of new vehicle sales in Norway in September.
Interestingly enough, Tesla is becoming a victim of the tax system rather than a beneficiary of taxpayer-funded subsidies.
Chart of the Day: bitcoin continues to surge and recently topped $5,000. But analysts are discovering a trend: the higher the peer-to-peer decentralized cryptocurrency goes, the faster it surges. Here is a Bloomberg chart: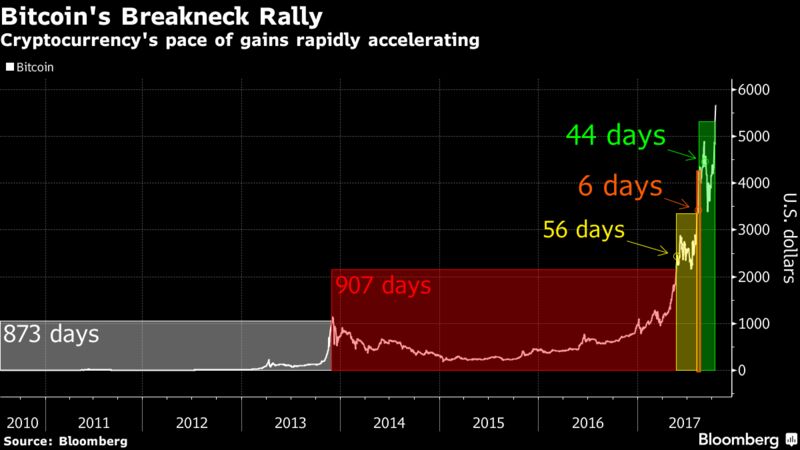 Illustration of the Day: there are so many leftists who hate capitalism and constantly deride it as an evil system. Whether it is Bernie Sanders or Barack Obama, politicians can't help but denounce a system that has lifted a billion people out of poverty. Here is one example of a wicked politician:
Quote of the Day: Reagan budget director David Stockman is out with a furious op-ed, lamenting on President Donald Trump's recent announcement pertaining to Iran. Here is an excerpt:
In a word, the whole notion that Iran is a national security threat and state sponsor of terrorism is just as bogus as the Russian meddling story or the claim that the chain of events resulting from the coup d' etat fostered by Washington on the streets of Kiev in February 2014 is evidence of Russian expansionism and aggression.

Likewise, it's part of the same tissue of lies which led to Washington's massive, destructive and counterproductive interventions in Syria and Libya — when neither regime posed an iota of threat to the safety and security of the American homeland.

To the contrary, all of these false narratives are the cover stories which justify the Warfare State's massive draw on the nation's broken finances. We will get to the Big Lie about Iran momentarily, but first it is useful to demonstrate just how enormously excessive the nation's defense budget actually is, and why the denizens of the Imperial City—especially the neocon ideologues—-find it necessary to peddle such threadbare untruths.

Spoiler alert: Iran has actually never attacked a single foreign nation in modern history whereas Washington has chosen to unilaterally intervene in or arm virtually every surrounding country in the region.
Video of the Day: Learn Liberty is at it again, but this time the organization takes a look at five inequality myths:
Like this article? Get ECN delivered to your inbox daily. Subscribe here.