Congress is holding hearings on Russian meddling in the 2016 election using Facebook, Twitter and other social media outlets. Suffice to say, the evidence is pretty ridiculous and it likely persuaded 0.04 percent of the entire United States voting public.
Here are just a couple of examples: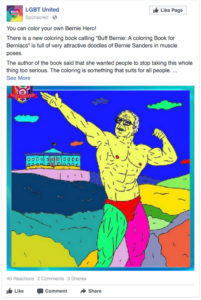 This graphic of Jesus and Hillary Clinton is an actual post shared by the Russian page "Army of Jesus," released during #TechHearings. pic.twitter.com/XKFLGnoXu4

— Mark Warner (@MarkWarner) November 1, 2017
Pretty absurd, right? You betcha! It is amazing how this could somehow hijack the richest country in the world and its election with something done on MS Paint.
Scott Adams, the creator of Dilbert, provides his insight into the Russian-linked ads on Facebook. And not even he can contain his laughter. Here is the video:
Like this article? Get ECN delivered to your inbox daily. Subscribe here.