It's the economy, stupid! Should the economy remain the same heading into the 2020 election season, President Donald Trump may be re-elected. And that would certainly lead to more videos like this.
The Federal Reserve Bank of New York reported on Friday that the New York Fed Staff Nowcast hit four percent for the fourth quarter of 2017, up from 3.1% in October. This is the highest level since the economic model tool was established in 2015.
The FRBNY said last week:
News from this week's data releases increased the nowcast for 2017:Q4 by 0.1 percentage point and left the nowcast for 2018:Q1 broadly unchanged.

Small negative surprises from industrial production and capacity utilization data were offset by the positive impact of data revisions.
Here is what Fed officials are looking at: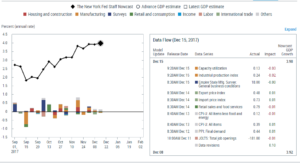 This comes as the Atlanta Fed's GDPNow was revised to 3.3 percent. It also comes a week after the Treasury Department projected that the U.S. economy will continue to expand without any hiccups for another few years, creating the largest expansion in the nation's history (SEE: Will the U.S. have the longest economic expansion in history?).
President Trump is likely pleased that the money emanating from the printing presses are still seeping into the national economy.
Like this article? Get ECN delivered to your inbox daily. Subscribe here.