Will it stay or will it go?
Some optimistic that the United States will stay in the North American Free Trade Agreement (NAFTA), while others aren't quite betting the farm.
President Donald Trump has had a wide variety of opinions on NAFTA since declaring his candidacy for the White House. At one point, he said NAFTA was the worst trade agreement in U.S. history, followed by the Trans-Pacific Partnership.
Should the U.S. ditch NAFTA, it would be bad news for Canada and Mexico. But you don't need government-managed trade to achieve real free trade.
That said, Maclean's magazine put together this excellent chart that looks at the media's reportage of NAFTA: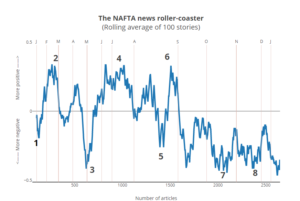 Like this article? Get ECN delivered to your inbox daily. Subscribe here.