News Story of the Day: jobs, jobs, jobs. President Donald Trump's momentum continues as the national economy added better-than-expected jobs, and wages were given a slight boost.
According to the Bureau of Labor Statistics (BLS), the U.S. economy added 200,000 jobs in January, while the unemployment rate remained at a 17-year low of 4.1 percent. Also, wages jumped nine cents, or 0.3 percent, to just under $27, the best level since June 2009.
If this Federal Reserve-induced keeps up, the Republicans are likely to retain the House in the mid-term elections in November.
Chart of the Day: the world has been becoming wealthier since 1995. According to new data from the World Bank, global wealth surged 66 percent between 1995 and 2014, and the biggest share came from middle-income countries. Here is the chart: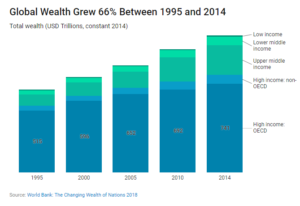 Illustration of the Day: Europe is beginning to fight the epidemic of "fake news" through the means of censorship. The elite only deem something fake news when it goes against their narrative or it sheds a negative light on their agenda. Before you know, it's going to seep into the U.S., and you will see law enforcement like this:
Quote of the Day: of course, President Trump had a motive to have North Korean defector, Ji Seong-ho, appear at his first State of the Union address. But the story was still heart wrenching, and what he said in a recent interview should have you thanking the heavens for free market capitalism:
"When I was in North Korea, I dug through the trash but struggled to find food," he explained, "In South Korea, I found trash cans full of food."
Tweet of the Day: here are the top 25 U.S. imports from Mexico.
Top 25 Imports from Mexico in 2016. Large majority (82%) represent inputs and intermediate goods purchased by US firms for production in the US using US workers including car parts, engines, industrial supplies, medical equipment, machines, instruments, computer parts, etc.). pic.twitter.com/BJye0cVVZg

— Mark J. Perry (@Mark_J_Perry) February 2, 2018
Video of the Day: no matter what you think of Trump, you have to concede that the way he speaks off-script is hilarious. Here is just one example:
"The name is resist, that's the name of their movement.

That's all they do is resist.

I don't know if they're good at it – they can't be too good at it because we're passing a lot of things." pic.twitter.com/LbZ7IXK21g

— Paul Joseph Watson (@PrisonPlanet) February 2, 2018
Like this article? Get ECN delivered to your inbox daily. Subscribe here.