Bitcoiners have argued for a long time that the peer-to-peer decentralized digital currency is a dependable safe haven asset when the market crumbles. With the Dow Jones plummeting 666 and 1,100 points during the last couple of trading sessions – and futures down by as much as 350 points on Tuesday – the theory has been put to the test.
Is it correct? Not by a long shot.
On early Tuesday morning, the virtual currency plunged to $6,000, but it has been recovering in the hours since then.
At the time of this writing, bitcoin is trading at just above $7,100.
Here is how bitcoin has been trading during the early hours of Tuesday: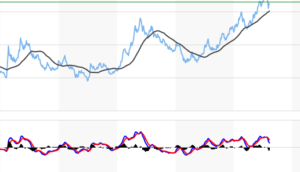 Plus, it is still way, way down from its all-time high of $19,000. You have to feel bad for those who entered the bitcoin market at any price above $10,000.
Like this article? Get ECN delivered to your inbox daily. Subscribe here.