Long live consumption and debt!
In a possible sign of greater confidence in the United States economy, Americans took on more debt in the third quarter as total consumer debt reached $11.7 trillion, according to a recent survey conducted by the Federal Reserve Bank of New York (FRBNY).
This economic data has prompted the U.S. central bank to declare that the era of deleveraging has finally come to an end. However, too much credit and debt were some of the reasons the financial crisis transpired in the first place.
With that being said, consumer debt rose $78 billion in the last quarter and was driven primarily by auto and student loans and credit card balances. This has been the growing trend since last summer. Economists described this report as renewed support among the consuming public, even though household debt is still 7.6 percent from its beak at the time of the Great Recession.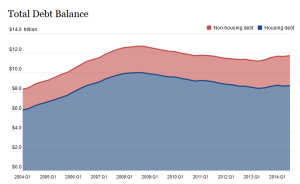 Here is a statement released by the FRBNY:
"Housing debt was roughly flat in the 3rd quarter of 2014. Mortgages, the largest component of household debt, edged up by 0.4 percent. Mortgage balances shown on consumer credit reports stand at $8.13 trillion, up by $35 billion from their level in the second quarter. Balances on home equity lines of credit (HELOC) dropped by $9 billion (1.7 percent) in the third quarter and now stand at $512 billion. Non-housing debt balances increased by 1.7 percent."
"In light of these data, it appears that the deleveraging period has come to an end and households are borrowing more," New York Fed economist Wilbert van der Klaauw said in a statement.
An interesting aspect of the report is in relation to the delinquency rate for consumers with student loans. The survey highlighted that the 90-day delinquency rate was at 11 percent, the highest level in the last three quarters. Total student loan debt has surpassed $1 trillion and is higher than credit card debt.
Like this article? Get ECN delivered to your inbox daily. Subscribe here.