Did you know that New Jersey Democratic Senator Bob Menendez is on trial for corruption?
Like many other Americans, you may have been unaware of this.
As the mainstream media concentrate on Roy Moore's sexual misconduct allegations and a dog's ear that looks like President Donald Trump, a top Democrat is facing allegations of corruption – there have also been past reports that he had sexual relations with underage prostitutes.
The Conservative Institute writes:
In March 2013, it was reported that a Miami federal grand jury was probing the senator's role in promoting the business interests of Salomon Melgen, an ophthalmologist and major political donor. Sen. Menendez allegedly encouraged the U.S. government to approve a rewarding port security contract that would have benefited Melgen and Pedro Pablo Permuy, a senior legislative aide to the senator.

A year before the investigation was launched, Melgen's company contributed more than $700,000 to Majority PAC, a political action committee that supported Democratic candidates, which spent nearly $600,000 on Sen. Menendez alone. Melgen also provided the senator with a wide array of perks, including the use of his private jet, a round of golf at a private West Palm Beach club and three nights at a five-star Paris hotel.

The Department of Justice announced in March 2015 that it was preparing criminal corruption charges against the senator. The indictment charged the New Jersey lawmaker with 14 counts, including bribery, conspiracy and making false statements.
The Media Research Center (MRC), a media watchdog, released a new chart that found the coverage of Menendez's trial has garnered just two minutes between September 6 and November 14 from ABC, CBS and NBC morning and evening news shows.
How much coverage has Moore received? MRC found 104 minutes of Moore reportage between November 9 and November 14.
Here is a chart: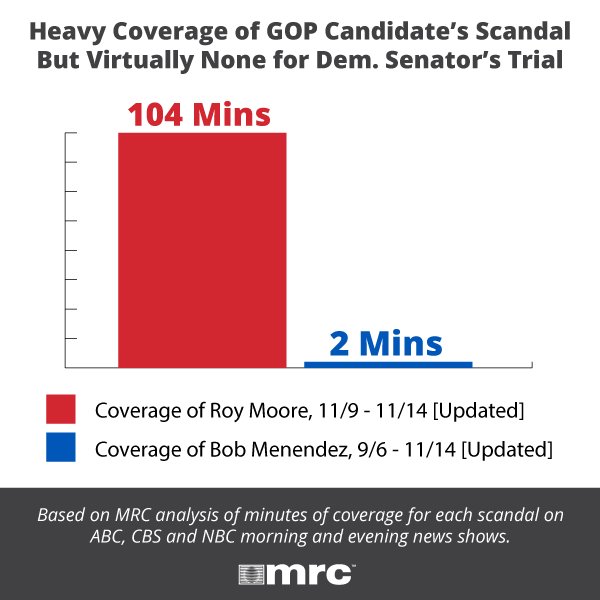 Not only do the media not want to cover on the trial, Democrats don't want to talk about it.
Democrats are refusing to comment on the matter, and some are even noting that they believe in a presumption of innocence. Oh, the irony!
Here is a montage:
Like this article? Get ECN delivered to your inbox daily. Subscribe here.