News Story of the Day: the XFL is coming back. Remember that league Vince McMahon founded nearly 20 years ago that lasted a single season? Well, the billionaire wrestling promoter is bringing it back, and this could be a successful venture considering the state of the NFL.
Here is what we know so far:
The football league will relaunch in 2020.
It will be a "shorter, faster-paced, family-friendly and easier to understand game."
Criminals cannot play the game.
McMahon will take full ownership of the XFL.
There will be eight teams with 40-man rosters playing a 10-game season.
With the NFL floundering – #TakeaKnee, low ratings, player controversies – the XFL could flourish this time around.
On a side note, some people are saying the XFL is racist for banning criminals from applying for a job. Isn't it racist to imply that only white people don't have criminal records? Humph.
Chart of the Day: shares of the Swiss National Bank (SNB) has tripled over the last 12 months, topping 6,000 francs on Thursday. Here is a chart from Bloomberg: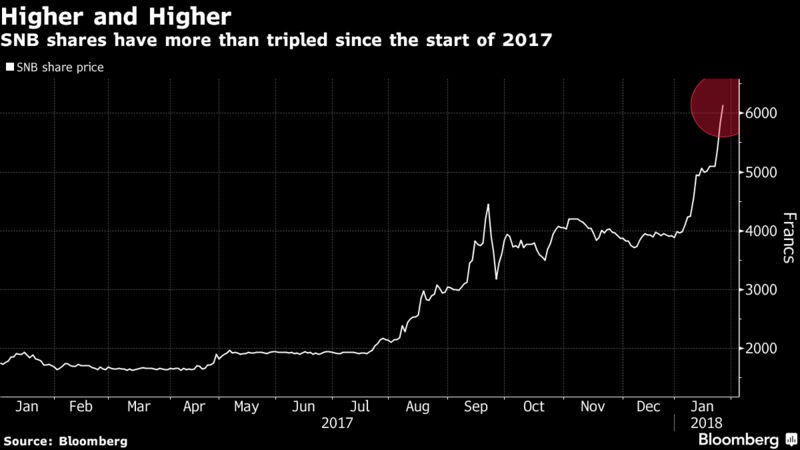 Illustration of the Day: wow! We are learning more and more about the text messages exchanged between FBI employees Peter Strzok and Lisa Page, both who are members of special counsel Robert Mueller's team. Here are a couple of other messages:

Quote of the Day: to President Donald Trump, it is terrible to invest in foreign countries not named the United States. However, if you're a foreign investors parking your money in the U.S., then it is great. Donald Boudreaux of Cafe Hayek takes the president to task:
ABC News reported this morning that while in Davos you will encourage other countries to invest in the United States.

I'm pleasantly surprised!  Foreign investment in the United States is indeed splendid for us Americans.  But such investment also increases America's trade deficit – a phenomenon that you've famously pledged to reduce.

Have you changed your mind about the trade deficit?  Will we hear no more of the economically ignorant squawking about the alleged horrors of the trade deficit that, until now, issued routinely from you and your administration?  Or – pardon my asking – do you simply not understand that every cent that foreigners invest in America is a cent that foreigners don't spend on American exports and, hence, is a cent that raises America's trade deficit?
Tweet of the Day: Peter Schiff gets it right when it comes to the Trump economy:
For all of 2017 U.S. GDP grew by 2.3%. This is slightly below the 2.2% average #GDP growth during Obama's 2nd term, and below the 2.6% and 2.9% growth rates of i2014 and 2015. Yet according to Trump the economy was a disaster under Obama, but is booming under his administration!

— Peter Schiff (@PeterSchiff) January 26, 2018
Video of the Day: the Counterfeit News Network is really losing it, and is taking a page out of Newsweek's playbook with bizarre headlines. The latest story suggests that you should allow your wife to sleep with other men to save your marriage. Huh?
Like this article? Get ECN delivered to your inbox daily. Subscribe here.